FREQUENTLY
ASKED
QUESTIONS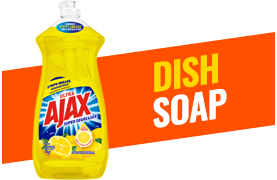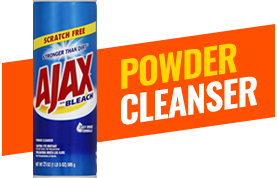 The Ajax® Powder Cleanser is especially designed as an easy rinse, scratch-free formula that can help you clean a wide variety of appliances in your home. From chrome to porcelain, from ceramic tile to pots, pans, and bathroom fixtures, as well as other durable, surfaces Ajax® Powder Cleanser will help you leave your home shiny and clean.


Wet surface. Sprinkle Ajax® Powder Cleanser freely. Rub lighting with sponge to make a paste. Clean and rinse. Use Ajax® on pots and pans, porcelain, bathroom fixtures, ceramic tiles, and even on outdoor items like barbeque grills and garbage cans.

Use caution and test a small area first on delicate surfaces such as fiberglass, imitation marble, plastics, and enameled appliances. Use plenty of water, rub gently and rinse well. Do not use on silver, fabrics, painted surfaces or plexiglass. Store in a cool, dry place. Do not re-use empty container. Discard in trash.


Ajax® products are available in a wide variety of retailers in the household products aisle. Visit our where to buy page to find a retailer close to you.