We understand that life isn't easy. You work hard, heck REALLY hard and the last thing you want to do at the end of a long day is clean the dishes! That's why Ajax® Ultra has a different approach.

We know that household chores require sacrifice. Who wouldn't rather get to the couch and their favorite show after a long day and leave the dishes for tomorrow?
That's why we recognize the everyday heroes who step up at the end of a long day and get the dishes done! Because, let's face it, at the end of the day a clean home is a happy home. So leave the grime to us and get back to what really matters!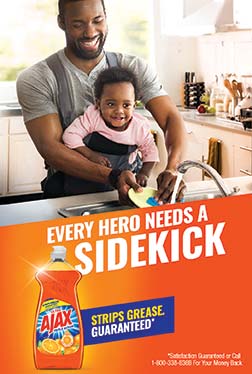 Strips Grease


Great Value


Amazing Scents


For Everyday Heroes

Life is tough. But you are tougher! By standing tall in the face of messes, you are an everyday hero.