We understand that life isn't easy. You work hard, heck REALLY hard! You tackle big and small tough jobs, without looking for applause. That's why we at Ajax® recognize you, the everyday heroes, who step up at the end of a long day and get the dishes done! Because, let's face it, at the end of the day a clean home is a happy home. Leave the grime to us so you can get back to what really matters!

In support of everyday heroes, Ajax® is uniting with the Breast Cancer Research Foundation, which is committed to preventing and curing breast cancer by supporting the world's most promising research. We're honoring those impacted by breast cancer and their loved ones by supporting BCRF.
We want to spread the message that even small gestures, like doing the dishes for someone can make a difference when someone is having a tough day. Share your everyday hero story and let's make a difference together!
#AjaxEverydayHero #ResearchIsTheReason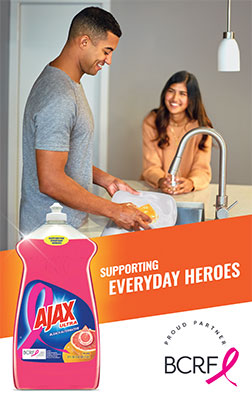 In 2020, Colgate-Palmolive Company is pleased to provide a $35,000 donation to the Breast Cancer Research Foundation, funding 200 critical hours of valuable lab time. Purchase will not increase donation amount. For more information about BCRF visit BCRF.org.
Strips Grease


Great Value


Amazing Scents


For Everyday Heroes

Life is tough. But you are tougher! By standing tall in the face of messes, you are an everyday hero.